\ Grow up in WER \
Prizes in History
WER2018 World Championship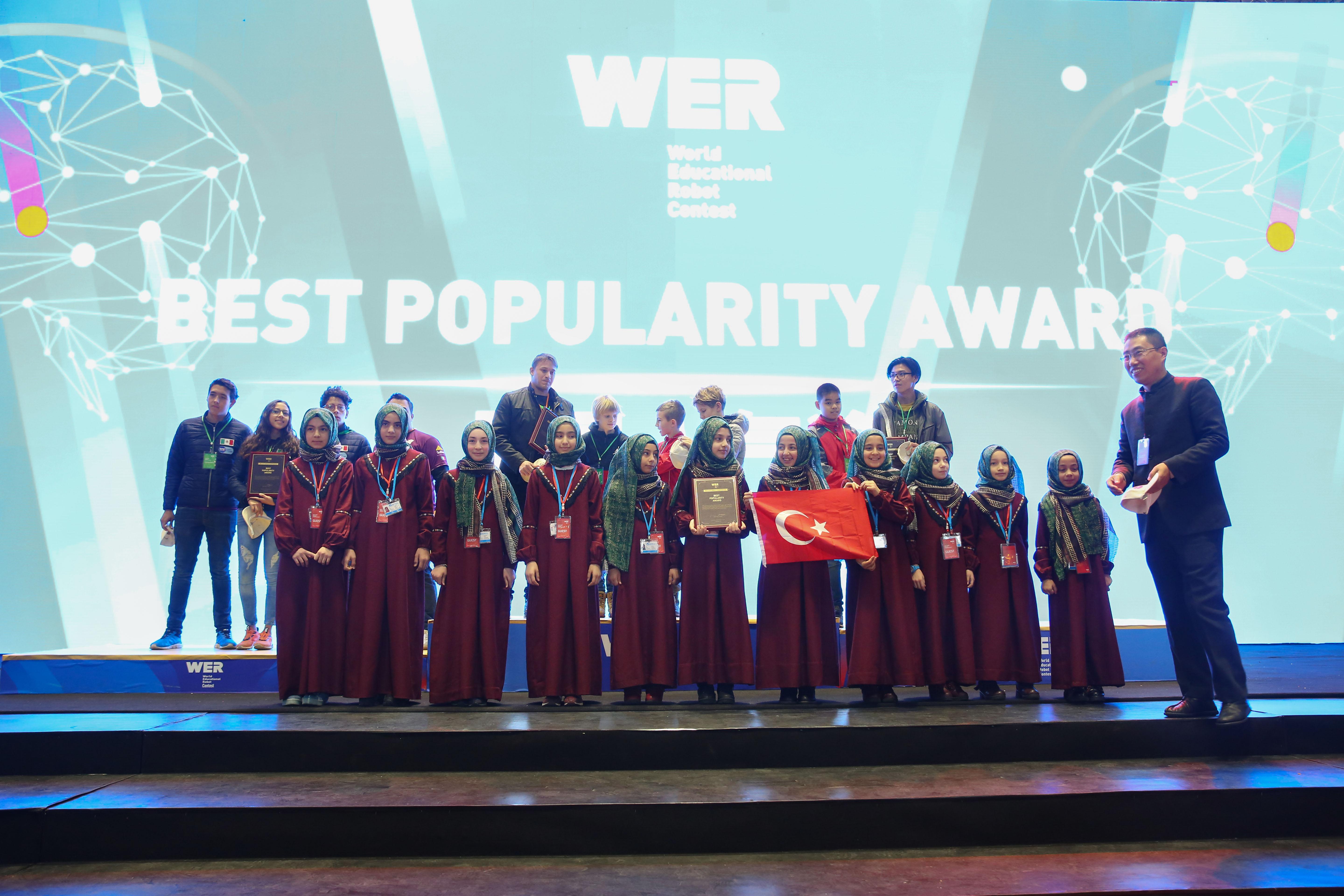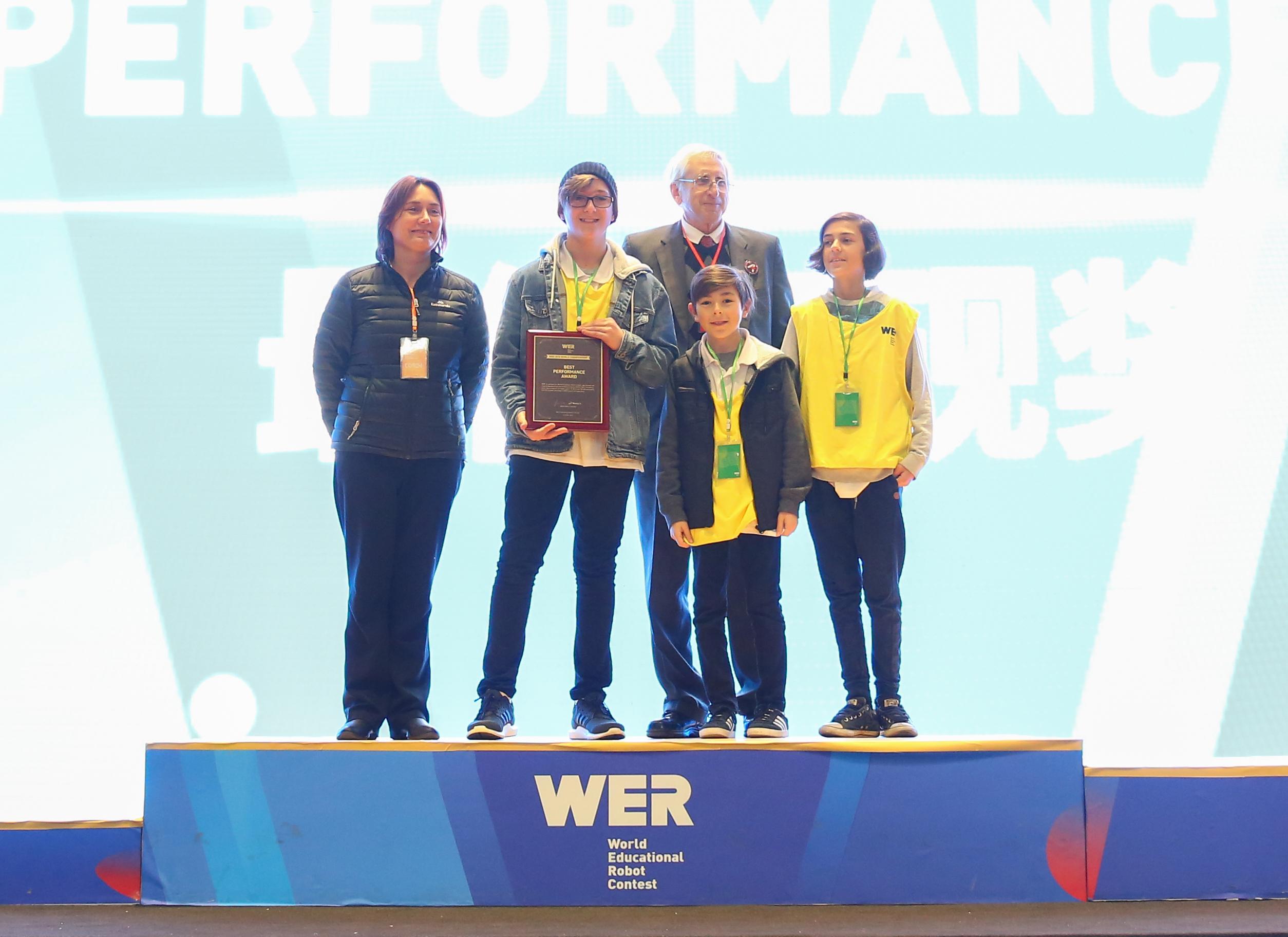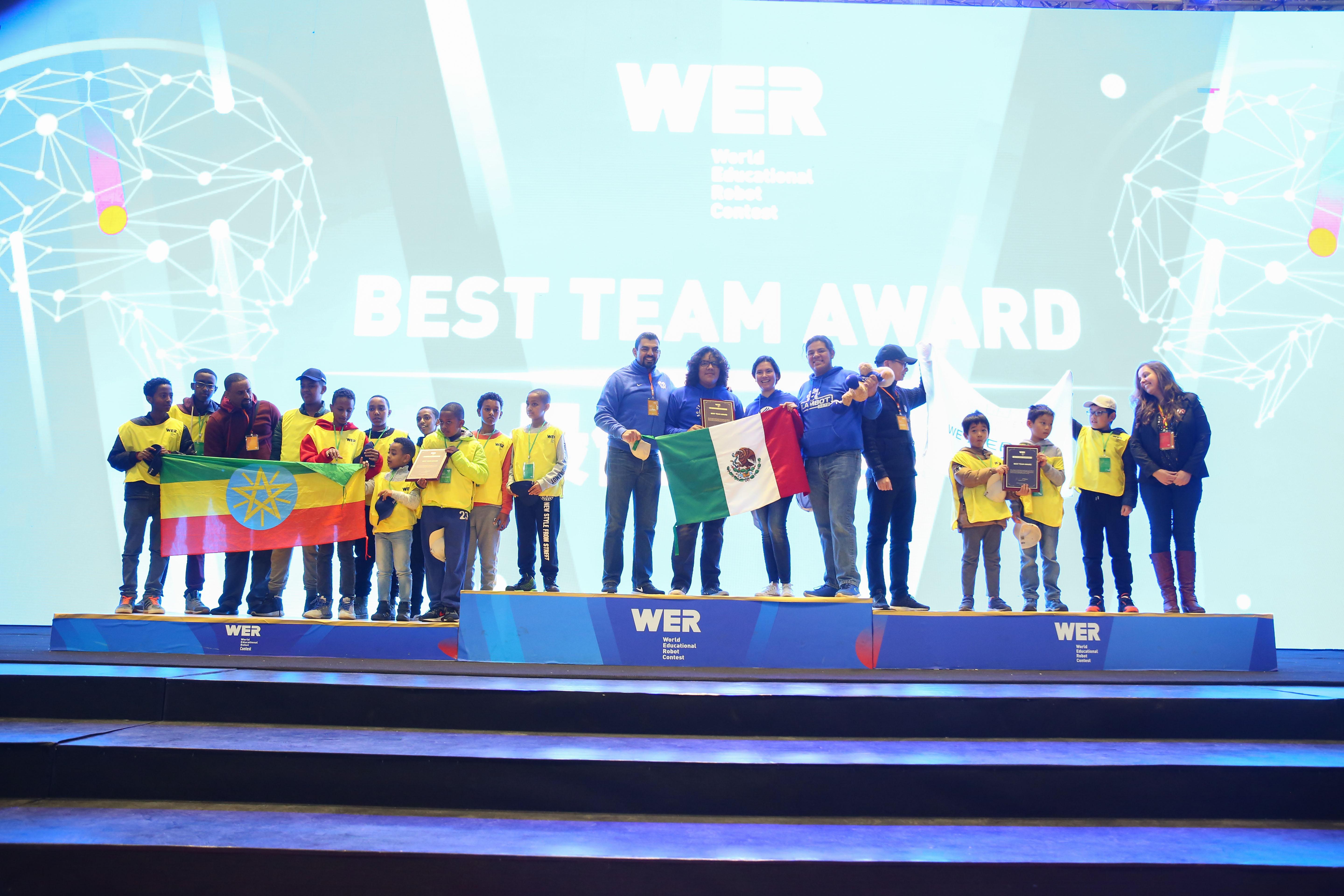 WER 2016 World Championship
Bricks Robot Contest Awerd
\ Primary sections \

\ Junior sections \

\ senior sections \

star contestants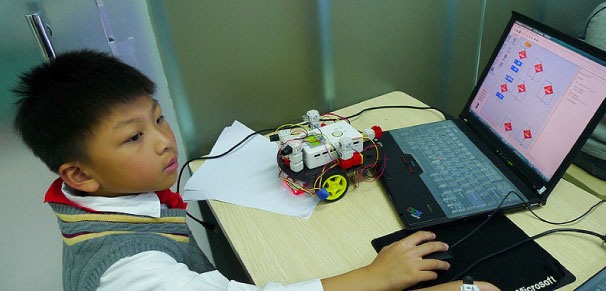 Happy Robot Player of Our Family
---
As my son entered primary school, I wanted to find a curriculum attracting his interest. When I knew the robot interest class and told him about it, he was so excited that he wanted to enter the class immediately. That's how the robot dream started.
Since then, my son has always been looking forward to the robot class every week. On that day, after finishing homework, he will call me to send him to class.
The study starts from building. The projects ranges from simple crane, winch, brake machine, blender, road barrier, automatic door to flexible hanger and wiper wash. I can feel that my son's practical ability got enhanced. Then it came to the magical programming period. They started from the traffic light, my son got interested in traffic direction; when studying multifunctional washing machine, my son wanted to design a real washing machine for me! With more and more works coming into beings, my son, together with his teammates, experienced happiness of persistence, endeavor and self-realization.
When the National Robot Intelligence Contest was approaching, all children took training curriculum twice a week. During this period, everybody, no matter teachers, students and parents, was getting prepared with no rest. We always work until midnight!
My son's debugging didn't go smoothly when there was only one week left. I was a little bit worried. He then started debugging at home, solving problems he encountered. To find combustion source for the wheeler, we used candles as substitute of candles. The wax dripped everywhere on the floor, which no doubt revealed our efforts.
On the day of the contest, my son said to me, "Don't worry, mum, I'll do a good job." On hearing his words, I became relieved. My son's race was in the morning. When I arrived at the site, the debugging period was coming to the end. According to other parents, my son's debugging went smoothly and was ready for the contest. I was at ease, waiting for his completion of the task.
We sit together to watch the rebroadcast. Suddenly, from the rebroadcast, I saw my son's car stopped. He rushed to the computer and tried programming and debugging again. But there was no use. After several trials, the wheeler kept still. My son got very helpless. I didn't know whether he was crying, and there was only five minutes left.
I was so anxious that I kept looking at the time. There was only three minutes left. My son kept working on the computer. When he tried debugging again, I was not hopeful about the result. His father went out of the classroom, not having the heart to watch the rebroadcast any more. I nearly burst into tears. At that time, I saw my son's wheeler started to run and pushed the two light sources out of the arena precisely as required. All parents present were as excited as seeing their own children finishing the task. We shared happiness at the moment.
Then the contest started. My son was the fourth contestant to present. When he placed his wheeler at the start, I started to worry whether the success beforehand was an illusion. It proved no. My son's wheeler completed the task fast and accurately.
Seeing this, I rushed out of the classroom and saw my son. He said that he almost cried. I said, "You did a good job. You should try your best to tackle the problems you encounter."
On the second day, when acknowledged that my son had got the first prize. I could hardly believe it. But it came out to be true. At the same time, he was awarded the Best Fight Prize. It was not only an honor for my son, but also a belief for me, telling me to believe in my child, whose power is beyond imagination, and to hold on until the last moment.
The robot dream is still proceeding. This is not the terminal but a new start. Wish my happy robot player will continue with his dream.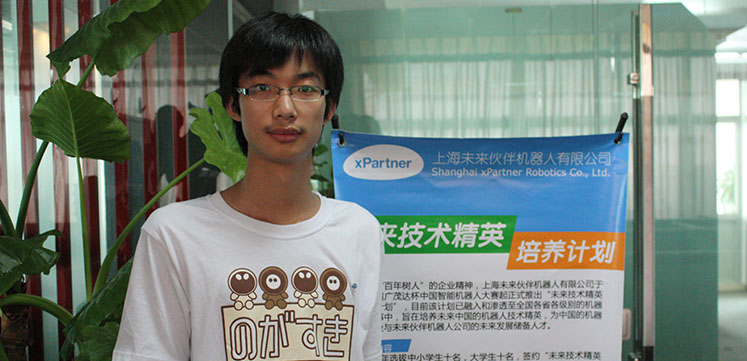 Share My Experience with Robots with You
---
The robot contest is an essential project worthy to be promoted. This is not only because it can train students' creative, independent thinking, practical and self-study abilities, but also because it enables students to study while practicing, which truly apply knowledge on books to real life.
There are many unforgettable memories during my study of robot. Robot is my important partner accompanying with me. When first got in touch with robot, I managed to turn my ideas into programs by using flowcharts. I soon discovered that flowcharts alone cannot meed my demands. Due to the study pressure, I had no time to ask teachers to teach me C language. So I studied C language on myself at extracurricular time. The initial period tortures, especially the grammatical requirement of machine language was strict, one mistake may lead to failure running. The study of C language trained my self-study ability. Moreover, it reminded me of the importance of preciseness in life.
Robot contests have given me great honors, happiness of success, and, at the same time, pain of failure. I can still recall one contest that changed me a lot during my 3-year contest experience. After winning the second prize of national championships in Junior 3, I became quite complacent. I successively entered the final period in the municipal race in the year followed. After several competitions, I encountered the team I beat 10 to 0 in group game. So when meeting them again, I was arrogant. However, the team utilized high-power drive which enhanced the robots' power a lot. While as to us, to preserve strength to race with the next team, which were regarded as truly strong opponent, we only used four standby robots. With no doubt, our team ended up in failure. We were beaten 0 to 3. When I saw the result, I couldn't believe it was true. Due to the failure, our team was not qualified for the provincial contest. Thanks to the frustration, I finally came to my senses. I realized that every result could be possible before one thing true took place.So we should never take anything lightly. After then, whatever I do, I was determined to hold on to the last.
Unbeaten Team Shone at WER 2017 East China Open
---
On March 26, World Educational Robot Contest (WER) 2017 East China Open (hereinafter abridged as: WER East China Open) came to an end at Anhui Hefei Shushushan District Olympic Sports Center.
After two-day exciting contest, the prizes of six events: WER Ability Challenge Contest, WER Project Innovative Contest, WER Brick Popularization Contest, WER Mobile Series Contest, Little Spirit, Great Ideas and Microlens were announced.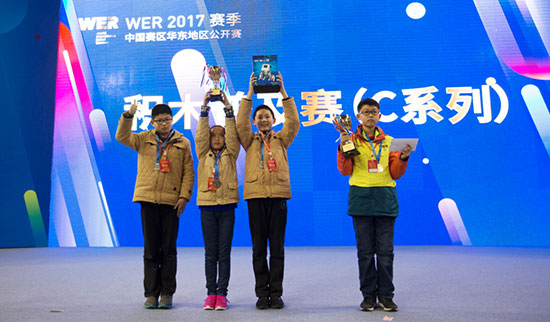 Selected from nearly 2000 contestants, those winners' power cannot be underestimated. Especially the second place winners of primary school division brick contest, Zhou Chenyuan, Chen Yuxuan and Yao Zhiyi, all came from famous teams.
Though it was the first time they awarded prizes in WER, Jiangnan Experimental School Robot Studio (hereinafter as "Jiangnan Studio") had always been regarded as unbeaten team in teenager robotic contests.
Countless prizes, three-time champions
This time, there are 12 teams from Jiangnan Studio participating in the contest. The coach Lou expected to encourage new members of the studio to take part in the contest and to make every student of the studio feel the charm of the contest."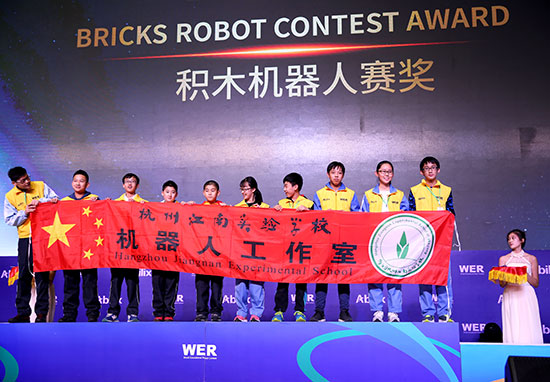 As early starter of primary and secondary school student robot education, Jiangnan Experimental School founded the educational robot studio in 2009, serving for those students interested in robot study. Currently, teams from the studio have attended over a hundred robot contests and has obtained fruitful results.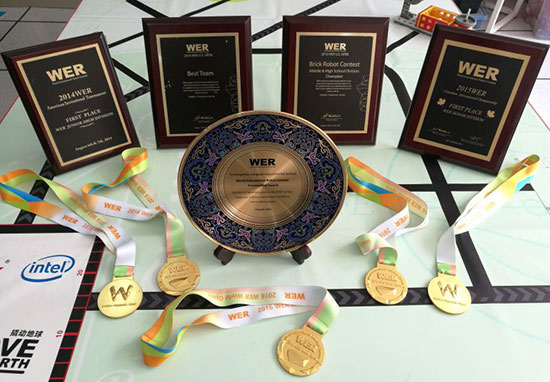 Champion of WER World Championships Secondary School Division from 2014 to 2016, Second Place of WER 2015 World Championships Primary School Division, First Prize of 2015 National Primary and Secondary School Computer Work Activities, Second Prize of 2015 China Adolescent Robotics Competition, Robot Designing Champion of 2014 FLL Robot Engineering Challenge Europe Open,First and Second Prize of WRO 2015 East China Open...all above-mentioned honors were granted to them.
Abilix, the Chosen Study Kits
When asked why the studio had gained such a success, Coach Lou Wei, one of the person in charge of the studio, also the spirit of the studio told us that it was because of the stress of the school. The teaching and practice were not only contest-oriented, they were solid and systematic.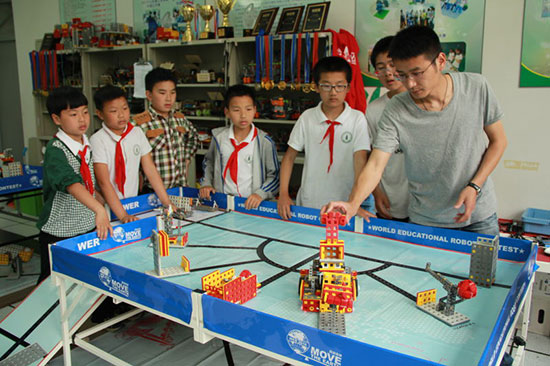 The solid and practical style also influenced the choice of teaching materials. To highlight the two target of robot teaching: innovative building and autonomous programming, Coach Lou Wei and his coworkers had investigated many educational robot products. Students tested the samples in classes in person. Eventually, Abilix obtained highest appraisal. Coach Lou thought that Abilix did a good job in inspiring students' practical ability and creative consciousness. The programming of flowchart also set a sold foundation for students' further programming study.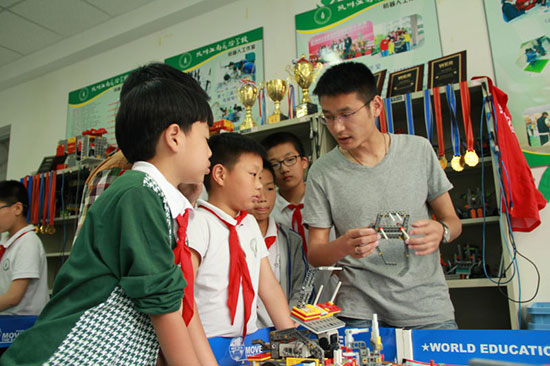 The choice of Abilix granted Coach Lou Wei and the students he led to know and get contact with WER. By participating in the contest, their achievement in robot teaching were examined effectively. Meanwhile, students felt the happiness of success as well as learned the importance of cooperation. The accumulated experience then helped their further study.
From interest to study, students keep growing
Since Jiangnan Experimental School is a nine-year experimental school, most students of the studio study robot curriculum from grade three or four to secondary school graduation.
After 4 or 5-year educational robot study, each child grows prominently. From the beginning, they are only interested in robots. This is just like watching cartoon or playing games. They don't take educational robot study seriously. Sometimes they may even skip classes. Gu Xihao, champion of WER 2016 World Championships, used to skip class to attend a classmate's birthday party. However, after systematic study and having attended different contests, these students finally get indulged in robot study, sparing no efforts to study educational robots.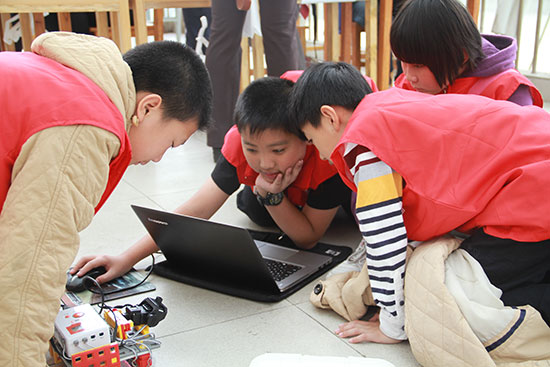 Students not only obtain honors from educational robot study, but also the unyielding spirit. Their boldness to think and do wildly also benefits their study of other studies, thus enabling them to make great achievement.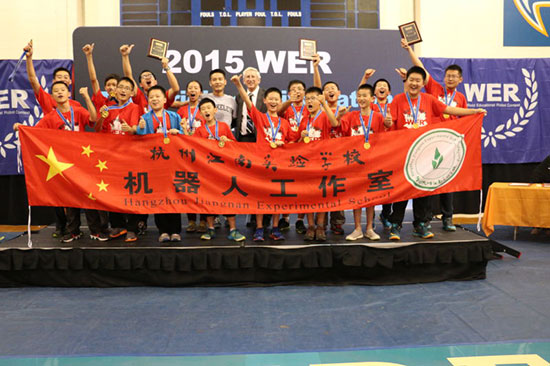 Jiang He, Champion of WER 2014 World Champions, is studying in an American high school for the time being. Lou Hanqi, Champion of WER 2015 World Champions, eventually managed to enter the dream high school-Hangzhou No. 4 Middle School...
According to Coach Lou, Jiangnan Studio will send more students to participate in WER Contest. Wish them greater achievement.
My Experience in Intelligent Robot Teaching and Contest Training
---
Our school introduced robots in March 2013. We set robotic interest group teaching, which has lasted for eight years, as pilot project. In the past 8 years, our school has accumulated much experience in robotic contest teaching.
Robotic activity is a project with big investment to school. Due to the financial pressure, only a part of capable students with great interest were chosen as pioneers. Then the teaching scope can be broadened. So the selection system matters. We need to select the best students. Below is the flow of my training, selection and participation system.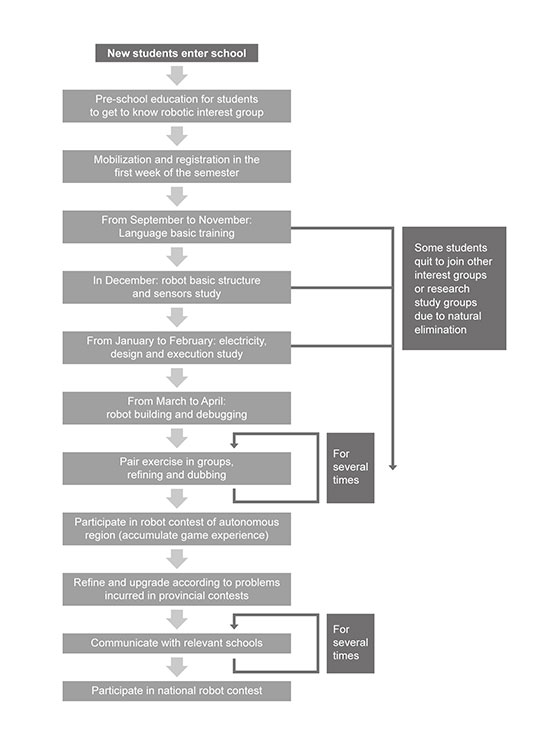 In 2009, Shinjiang carried out curriculum revolution. To respond to the policy, our robot group established robot optional courses and investigative study group so as to combine robotic curriculum into daily teaching. Since the study hours of robotic study is ensured, the foundation of robotic education is thus laid.
In the case of robot contest training, we have placed emphasis on following aspects:
Cultivation of students' self-study ability. Nowadays, the ability to study on oneself has been deemed as an increasingly important ability. When studying C language as well as robotic knowledge, students should be aware that study is not confined to classes, they should also explore outside classes.this ability can show its importance in students' daily study. They should be clear that they are the subject of study. Teachers should make out the study characteristic o each student, find their advantages and provide them with the environment to face difficulty and to feel the success and failure in robot building. Students may encounter many difficulties during the process of robot building. These difficulties are foundation of their success. Only through overcoming difficulties and frustrations can they really feel the happiness brought by autonomous study.
Cultivation of team spirit.Through robot contest classes, students are more aware of the importance of team. Teams can bring them happiness and inspiration. They can feel the benefits of team spirit in contests. The team should be moth mutual-competitive and mutual-helpful while creating the environment of group study in which students can explore and study while having fun.When completing a certain task, each team can be divided into two or more groups so that groups can compete and communicate with each other so as to discover deficiencies and make progress. The co-work should be both within groups and among groups and even teams. A student with cohesiveness should be chosen as the leader. This student should be determined and unyielding enough to lead the whole team to overcome difficulties. The leader should also be talented in analyzing opponents and learn from them to lead students to proceed. Moreover, the leader should be influential enough to motivate others, which is where team spirit lies in.
Cultivation of creative ability. Robot building requires students' innovative awareness and bold creation.With these qualities, the robot can be unique and invincible. In the case of creativity, our students always perform prominently. They used to transform rat tracker into football catapult for football robots; They used construction wastes into sensor building of fire extinguishing robots; They looked for materials available for robot building in markets. These all reveals their ability and willingness in creation and building.
Cultivation of confidence.If one student makes his or her own robot, then he or she knows it quite well. Then the student will become confident. The analysis of opponents' strengths and weakness is another way to cultivate confidence. Some team members may not perform well in their school subjects, but after attending robot interest activities, with enhanced confidence, students may acquire better scores.
Cultivation of practical ability.Nowadays, there are quite a lot talents who are proficient in theory. However, talents who can put theory into practice are insufficient. Our robot activities suggest students to design and make robots with tools at hands and put their ideas into practice to examine the theories. As long as there is one prominent student, other students will create their own works actively. After communication and refinement, the works will be inclined to perfection. The students whose practical ability is trained in this way will surely do well in their own works and make contribution to the society after they start to work.
Cultivation of interest. Interest is regarded as the best teacher. The period of selection is also a period of interest cultivation. The chose students are those who are qualified to participate in robot contests. Those disqualified students will be eliminated and those elites will finally become participants.
Cultivation of discipline. During the process of robot building, many regulations and rules need to be followed. So students' self-discipline should be cultivated. For example, the attendance and task complete status need to be taken into consideration. For those who fail to meet the requirement, relevant solution should be carried out. Students should know that the intelligence of robot is granted by human beings. If the robot fails to complete the task, the maker should be responsible for it.